Stan James Best Odds Guarantee
Stan James Best Odds Guarantee

Take an early price with Stan James
If the horses starting price is then better
They'll pay out at the higher odds!
Stan James now offer members an odds guarantee on racing bets. It basically guarantees that you'll get the best odds if your early price is worse than the starting price.
Stan James Horse Racing Odds Guarantee
That's right, if you take an early price on a winning horse, and it turns out that the horses starting price was better than what you bet at, Stan James will pay out at the higher odds!
A lot of bookmakers 'best odds guaranteed' offers can have very limited markets. There's no need to worry with Stan James as it's available on all UK and Irish races.
If you're a horse racing fan that likes to take a risk with early prices, this is a must use betting offer. You'll either get great early odds, or the SP odds if the odds change for the better.
Stan James Odds Guarantee Terms & Conditions
T&C's apply to the Stan James Odds Guarantee. Please see the Stan James website for more details.
Using Stan James' Best Odds Guarantee
To take advantage of the fact that Stan James offer a best odds guarantee on horse racing simply login to your online betting account at StanJames.com.
If you're not a member yet, simply register today and you'll also be able to take advantage of the Stan James signup offer that's available for new account holders.
Once you're logged in, you'll need to place a qualifying bet. To qualify, bets must be placed on UK and Irish horse races after 10am (UK time) on the race day.
Once you've placed your bet, it's pretty straightforward. If you decide to take an early price, but the starting price is higher on your winning bet, Stan James pay you at the higher price!
Stan James Best Odds Guarantee Example
If you're not familiar with how taking an early price when betting on horse racing works, here's an example of the Stan James best odds guarantee in operation.
For this example, let's say you place a £10 bet on a horse at odds of 7/1.
Just before the race runs, you look at the odds and they've drifted to 10/1.
The race goes ahead and the selection you backed at 7/1 wins the race.
Although you accepted a lower early price, the Stan James best odds guarantee means you'll get paid out at the better odds of 10/1 and not 7/1.
So instead of having a win of £70, you'll pocket £100 from your bet.
So that's all there is to it. Take an early price on a UK or Irish horse race at Stan James and you'll be betting at the best possible odds without having to lift a finger!
Stan James Odds Guarantee Terms
As with most bookmakers betting offers and promotions there are some terms and conditions surrounding Stan James' best odds guarantee that you should be aware of:
You can't use this offer with board prices, ante-post, non-runner no bet, tote/ pari-mutuel (bets and dividends), not to win, enhanced win, cover bets and in-play bets.
Any bets placed using a bonus bet won't qualify for best odds guaranteed.
Eligible bets are also only single or multiple bets.
Not Signed Up To Stan James?
As with all Stan James betting offers, you'll need to previously have signed up as a customer at StanJames.com to take advantage of their Best Odds Guarantee.
If you aren't a member yet then great, as you'll also be able to claim the signup offer that Stan James reward new account holders with.
Not sure that Stan James is the best bookmaker for you? Check out the rating that we gave them below or compare bookmakers before you signup.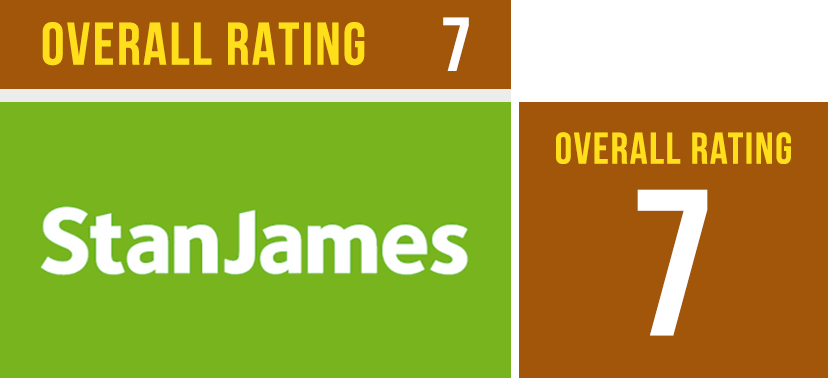 Good option for betting on UK markets and also offer a handy 'in-running' diary for betting on live sport.
Other Bookmakers Offers
Can't make use of this Stan James betting offer? Simply select another British Bookmaker from the table below to see all of their current betting offers instead.