Betfair Exchange Cash Out+
Betfair Exchange Cash Out+

Look for the yellow 'Cash Out' icon
Use Cash Out+ to limit your liability...
or lock in profits before events finish
Similar to other bookmakers cash out option, Betfair Exchange Cash Out+ lets you end winning bets early, but Betfair's also lets you limit a bets liability too!
Once Cash Out+ is activated, Betfair offer you a cash out value for a bet, in real time, that's based on the live market price for the sporting event you bet on.
With Betfair Exchange Cash Out+, you've got the ability partially cash out to lock in a profit or limit a loss, without having to wait for your bet to complete.
How Betfair Exchange Cash Out+ Works
As with the cash out option at most bookmakers, Betfair Exchange's is simple to use.
Firstly, you'll need to have registered an account at Betfair.com/EX to use Cash Out+.
If you aren't a member, then make sure you check out the Betfair Exchange signup offer.
Once you've logged into your account, simply place a qualifying bet (bets that are eligible for cash out will have yellow 'Cash Out' icon displayed beside them).
Now just sit back and see how your bet's performing safe in the knowledge that at any point you can check out how much your bet's worth if cashed out.
If things are going your way but you decide to 'Cash Out' before things change for the worse, click the yellow 'Cash Out' button and you'll lock in whatever profits you're making.
Any profits you withdraw from a bet are credited back to your account's balance.
Betfair Exchange Cash Out+ Example
Here's some example screenshots of how Betfair Exchange's Cash Out would work when you place a £50 bet on Liverpool beating Man City.
The first example screenshot below shows Betfair Exchange's normal Cash Out option with the Cash Out slider set to the default 'Max' option.
The Cash Out value of £99.04 is what Betfair will credit to your accounts balance once the market closes and includes your original stake.
The Profit value of £49.04 is the amount you have won or lost on the market.
The second example screenshot below shows what happens when you move the Cash Out slider away from 'Max' and active 'Cash Out+'.
The Cash Out value of £50 is the minimum amount that you'd receive once the market closes.
The Profit value of £0.00 is the worse case scenario. So if Liverpool didn't win, you wouldn't win anything either, but your £50 stake would be credited back to your account.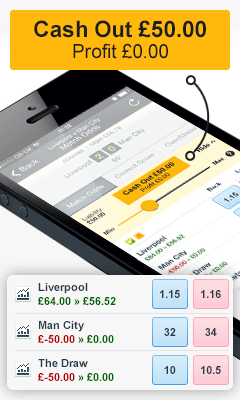 The three different match scenarios show what would happen if you Cash Out and your bet wins.
For example, if you stick with your original bet and don't Cash Out, you'd win £64 if Liverpool did beat Man City and lose £50 if they didn't beat them.
However, with Cash Out+ activated, you'd pocket £56.62 if Liverpool beat Man City and lose nothing if they didn't beat them.
Betfair Exchange's Cash Out+ is available for various football betting markets as well as UK and Irish horse racing with more markets hopefully added in the future.
So there you go, by activating Cash Out+ at Betfair.com/EX and you'll no longer have to wait for your bet to reach its natural conclusion to know the outcome.
Cash Out+ gives you way more control over the bets you place and lets you watch how your bets are progressing, and 'Cash Out' whenever you want.
Betfair Exchange 'Cash Out+' terms
As with most bookmakers betting offers, there are a few terms and conditions to be aware of when using Cash Out+ at Betfair's Exchange:
Cash Out+ may not be available when low liquidity exists in a market.
Cash Out+ values aren't guaranteed as they are based on the live Betfair markets where prices are constantly moving. This means you may receive more than indicated, or your Cash Out may be unsuccessful or only partially successful.
If a Cash Out+ is unsuccessful/partially successful then Betfair offer a new Cash Out value based on your revised position and the markets' current live prices.
There's no limit to the number of times you can use Cash Out+.
Not Signed Up To Betfair?
As with all of Betfair Exchange's betting offers, you'll need to previously have signed up as a customer at Betfair.com/EX to take advantage of Cash Out+.
If you aren't a member yet then great, as you'll also be able to claim the signup offer that Betfair Exchange reward new account holders with.
#Ad. New customers only. Max £20 refund on first bet. Bet must be placed in first 7 days of account opening. Payment restrictions apply for the promotion. T&Cs apply.
Not sure that Betfair's the best betting portal for you? Check out the rating that we gave them below or compare bookmakers before you signup.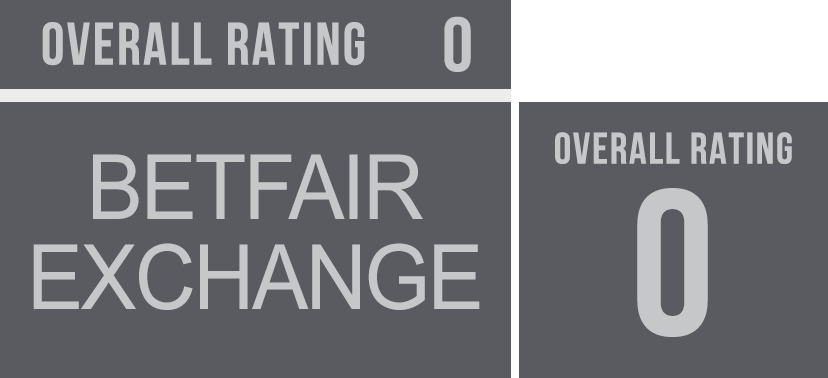 Simply one of the best betting exchange's you can currently bet at with roughly 15% better odds than traditional bookmakers.
Other Bookmakers Offers
Can't make use of this Betfair Exchange betting offer? Simply select another British Bookmaker from the table below to see all of their current betting offers instead.