Ladbrokes Odds Boost Tokens
Ladbrokes Odds Boost Tokens

Get one Odds Boost Token each day
Choose a bet that you want to boost
Bet up to £200 and boost the odds!
Top rated British Bookmaker Ladbrokes just launched 'Odds Boost Tokens' which let you boost the odds of one pre-event sports bet every day of the week!
One Odds Boost Token becomes available from 00:01 each day, and Ladbrokes.com actually let you decide when and on which market you want to boost your odds.
While some bookmakers offer price boosts, they're usually on specific markets - but with Ladbrokes Odds Boost Tokens you get to choose the bet to boost.
How to use Odds Boost Tokens
To be able to use Odds Boost Tokens you'll obviously need to have an account at Ladbrokes. Check out the latest Ladbrokes signup offer if you've yet to register.
Once a member, simply login to your account and follow the step-by-step guide below:
Once logged in one Odds Boost Token will appear in your 'My Account' section.
Next, find the bet that you want to place from the markets Ladbrokes offer.
Qualifying bets are pre-event, in-play singles and single-line multiples.
Add the selection to your betslip as normal to see if it's boost-able.
If it is, click the Odds Boost button beside the bet.
Receive boosted odds on winning bets once settled.
And that's all there really is to it. The best aspect of Ladbrokes Odds Boost Tokens is the fact that there's no minimum stake and any boosted winnings are in cash.
So basically the higher your initial odds are, the higher the boosted odds will be!
We've found that the average odds boost that you can expect to achieve when using Ladbrokes Odds Boost Tokens is around 4-8% and dependent on the market.
While a good boost, it's always a good idea to compare bookmakers to see if their normal odds are even better than the boosted odds you'll get using a token.
Although price boosts on specific markets are quite common, we expect to see a fair number of other bookmakers following Ladbrokes' lead and offering something similar quite soon.
Ladbrokes Odds Boost Tokens Terms
As with all of the betting offers that bookmakers promote, there are a few things that you'll need to be aware surrounding the Odds Boost Tokens that Ladbrokes offer.
Maximum stake you can apply tokens to is £200.
Tokens expire at midnight. New tokens appear at 00.01.
Tokens cannot be used for casino, poker, live casino, bingo, games, slots, or exchange.
Ladbrokes can limit or exclude any members and reverse winnings at any time.
Ladbrokes are well known for offering decent odds, but they've now gone one step further.
Start using Ladbrokes Odds Boost Tokens today and you'll have the opportunity to instantly boost your odds on sports bets every single day of the week!
18+ T&C's Apply. Gamble Responsibly.
Ladbrokes Odds Boost Tokens Terms
1. Ladbrokes Odds Boost tokens are available to customers as advertised by Ladbrokes through a variety of advertising channels including, on-site banner advertisement, email, push notifications, SMS, TV and press. 2. Each Odds Boost token will increase the potential returns on all selections in a betslip by means of lengthening the price of each selection. 3. Only the first £200 of stakes will be struck at the boosted price. Staking limits may apply. 4. Odds Boost tokens will appear in your My account section detailing what market the token it is applicable to. It will also appear on your bet slip if the token can be used on the selected market. and on your betslip if applicable to the market selected. 5. Ladbrokes Odds Boost tokens can be applied to pre-event and in-play singles and single-line multiples on sport, including virtuals. Odds Boost tokens cannot be used on complex multiples (e.g. Lucky 15s). 6. Odds Boost is available on desktop and mobile / tablet. It is not available through Telebetting, Text Betting, Ladbrokes Exchange, or in Ladbrokes shops. 7. Ladbrokes Odds Boost tokens will be available from 00:01 each day and will expire at midnight. Odds Boost token can be found on the betslip. 8. A minimum of one Ladbrokes Odds Boost token will be applied to each account daily. 9. Odds Boost cannot be applied to any other online product such as Poker, Casino, Live Casino, Games, Bingo, Lottos, Slots, Exchange or be used in conjunction with Tote or pool bets. 10. You must be aged 18 years or over to bet and participate in any Ladbrokes promotion. 11. The promoter is Ladbrokes Sportsbook LP, a limited partnership registered in Gibraltar, number 44, whose registered office is 57/63 Line Wall Road, Gibraltar.
Not Signed Up To Ladbrokes?
As with all Ladbrokes betting offers, you'll need to previously have signed up as a customer at Ladbrokes.com to take advantage of Odds Boost Tokens promotion.
If you aren't a member yet then great, as you'll also be able to claim the signup offer that Ladbrokes reward new customers with.
Not sure that Ladbrokes is the best bookmaker for you? Check out the rating that we gave them below or compare bookmakers before you signup.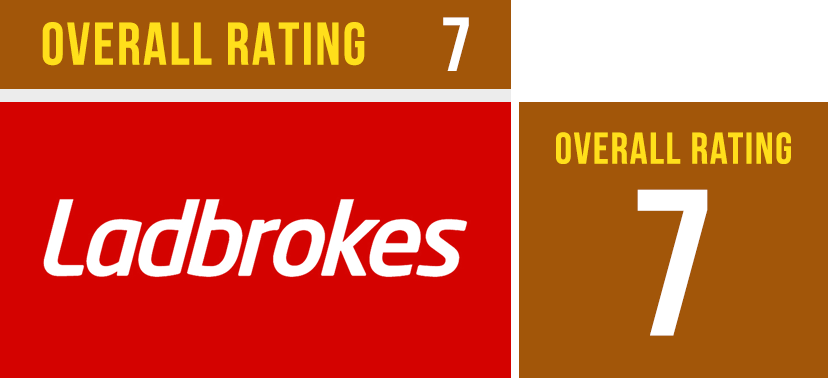 One of the best bookmakers on the high street with an impressive online betting portal and higher limits.