Sporting Index Signup Offer
Sporting Index Signup Offer
Signup for free at SportingIndex.com
Get given £100 in bonus credit...
Without depositing a penny!
Sporting Index New Account Offer
Sporting Index are so sure that you'll love spread betting, they're actually offering to give new customers £100 in bonus credit - no deposit required!
That's right, simply register a new free account at SportingIndex.com today and they'll automatically add £100 of spread betting credit to it - no questions asked.
The best aspect of the Sporting Index signup offer is the fact that you actually get to keep any profits that you generate spread betting with the £100 bonus credit.
Taking advantage of Sporting Index's offer for new customers is a no brainer, not only will it give you experience of spread betting, you could actually make money too!
We recommend grabbing this bookmakers signup offer as quickly as you can before they pull the plug on this offer and replace it with one that requires a deposit.
18+ T&C's Apply. Gamble Responsibly.
Sporting Index Signup Offer Terms & Conditions
1. You agree that by participating in the Sporting Index signup offer ("Promotion"), you will be bound by these terms and conditions ("Terms") as well as the general rules that apply to your account ("Account Operating Rules"). You should read these Terms carefully and acquaint yourself with our risk disclosure notice. 2. To the Sporting Index signup offer, customers must successfully apply for, and open, a new Sporting Index account. The free £100 trading credit will then be credited to your account. 3. Once a customer has successfully opened an account, we will normally credit their account with the free £100 trading credit before 5pm the next working day. 4. The trading credit must be used before it expires. The trading credit (or any such portion of the trading credit available) will be retracted 7 full days after the date your account was opened. If you are unsure of what date your account was opened please call Customer Services on 08000 969607 (+44 207 840 4050 if calling for overseas). 5. The promotional period will be 7 days from the opening of a new Sporting Index account. 6. Any net profits made over and above the £100 trading credit at the end of the 7 days will be yours to keep (subject to the Account Operating Rules). Only deposits made by you will be available for withdrawal, providing that the withdrawal of your deposit does not enter you into a negative balance. At the end of the promotional period, the free £100 credit will be removed. 7. RISK WARNING: The trading credit will cover any losses you make up to the value of £100. Any losses over and above the value of the trading credit (or any remaining portion thereof) will be your liability. If necessary, you will be required to cover the liabilities of any existing open bets when the trading credit is withdrawn. It is important that you are aware that it is possible in some circumstances to lose more than the trading credit. If you require any further clarification please contact our Customer Service team.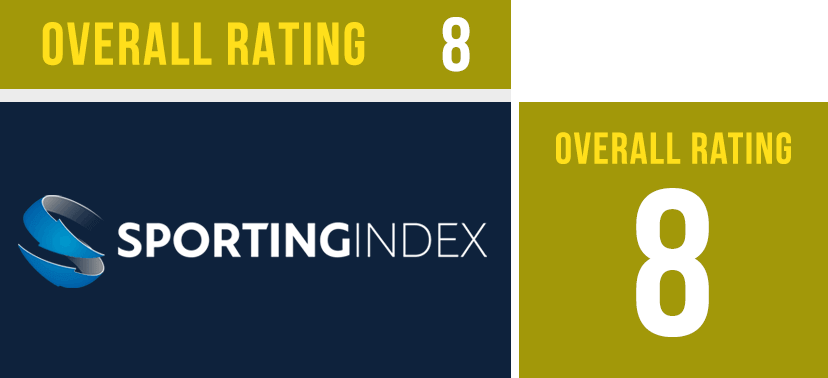 The UK's biggest and best spread betting portal offers members the potential for much bigger wins.
Reasons To Claim Sporting Index's Offer
There are many good reasons as why you should open a new spread betting account at Sporting Index. As well as supplementing the number of online bookmakers you can bet at, Sporting Index offer account holders the following benefits:
Great range of spread betting markets to bet on
Superb live in-play spread betting options
Option to cash out bets, banking profit/minimising loss
Excellent customer support that's available 24/7
So, if you're considering signing up for a new spread betting account with Sporting Index then make sure you claim the bonus that Sporting Index offer new signups!