Bet365 'Cash Out' Explained
Bet365 'Cash Out'

Place a bet at Bet365 as normal
Click the 'Cash Out' tab in the bet slip
End winning bets early to bank profits!
Bet365 offer account holders a 'Cash Out' option which lets you end a winning bet at a time that suits you, and bank any profits that the bet may be generating!
Bet365's 'Cash Out'
Similar to Coral 'Cash Out My Bet' and PaddyPower 'Cash Out', Bet365 'Cash Out' gives you the option of taking an early price on your bet before it's settled.
This means that you can lock-in the profit on winning bets before the market completes!
To use Bet365 'Cash Out', you'll need to signup for a new account or login at Bet365.com.
How To Use Bet365 'Cash Out'
Once you're logged into your Bet365 account, simply place a pre-match or 'In-Play' bet on selected football, tennis, basketball or horse racing markets.
Once the bets' placed, keep an eye on your betting slip as it will show all of your unsettled bets which are highlighted by a number next to the 'My Bets' tab.
Click the 'My Bets' tab and you'll be able to see the bets that you can 'Cash Out'.
They're highlighted by a 'Cash Out' button which shows the money you can withdraw on any winning bets before their outcome changes for the worse!
There's also a 'Live Now' tab in 'My Bets' which highlights any 'In-Play' bets. This handy section shows the live score on the event as well as the current 'Cash Out' amount.
Once clicked, the 'Cash Out' button will turn yellow and ask you to confirm your decision.
'Cashing Out' A Portion of Your Bet
You don't have to take the full 'Cash Out' amount as Bet365 also allow you to partially 'Cash Out' a bet leaving a portion of your original stake on the market.
To partially 'Cash Out' some of your stake, click the slider icon next to the Bet365 'Cash Out' button. Then you can select how much to 'Cash Out' and how much to leave on the bet.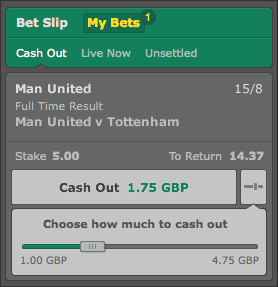 Bet365's 'Cash Out' slider is great if your bet's generating a profit as it means you're able to withdraw the value of your original stake and leave the rest riding on the bets' outcome.
This means that you won't have lost a penny on your bet, whilst opening up the potential for more winnings should the outcome stay the same or improve!
Bet365 'Cash Out' Example Bet
Let's take a look at how Bet365's 'Cash Out' offer works on a football accumulator.
Let's say that you place a 5-fold accumulator bet at Bet365.com and four of the five teams you backed to win are winning at half-time but one is only drawing.
With Bet365's 'Cash Out' option, you'll be able to end the 5-fold accumulator early and bank any money that it's currently generating - albeit at lower odds.
Of course winnings will be lower than if all five teams won but there's nothing worse than a team scoring a late goal and turning a win into a total loss!
Bet365's 'Cash Out' option is one of the most innovative products to hit sports betting in recent times and is taking online betting to the next level.
Not Signed Up To Bet365?
As with all of Bet365's betting offers you'll obviously need to have signed up for an account at Bet365.com to be able to 'Cash Out' a bet.
Not sure that Bet365's the best bookmaker for you? Check out the rating that we gave them below or compare bookmakers before you signup.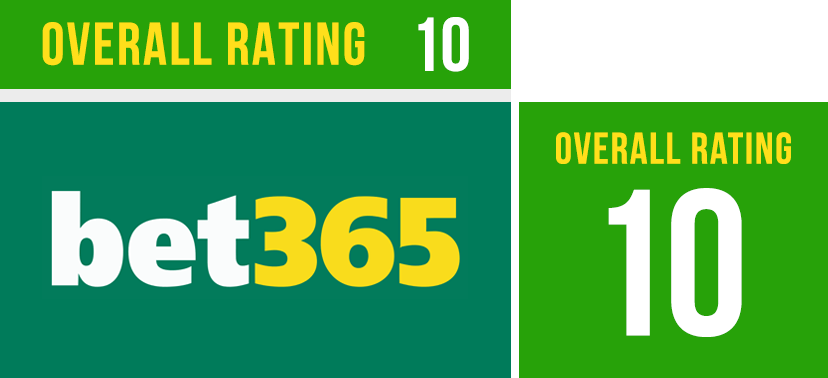 Simply one of the biggest and best online bookmakers with excellent site design and huge range of markets.