SportingIndex.com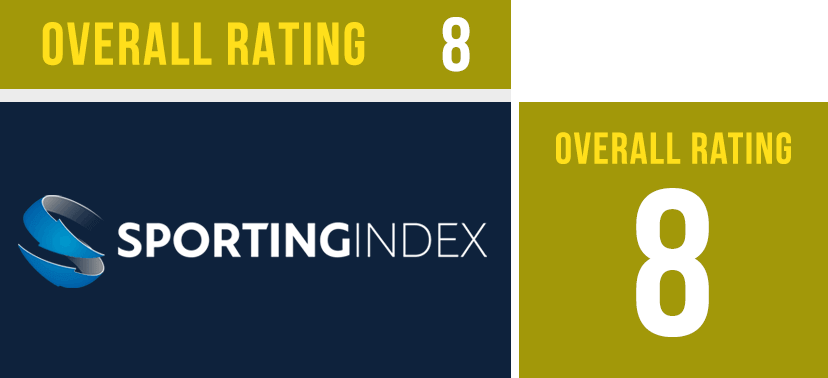 Loads of spread betting options
Offers the potential of bigger wins
Superb live betting propositions
Sporting Index Review
Other spread betting companies may have entered the market in the past few years, but none come close to the standard that Sporting Index set when they launched back in 1992.
SportingIndex.com are renowned as the UK's largest spread betting portal. Open a Sporting Index account and you'll have access to a wide range of spread betting markets.
Overall, the SportingIndex betting experience is pretty impressive. Their website is extremely intuitive and all of the markets, promotions, odds and live in-play options are easily accessible.
Not all punters may be familiar with spread betting, and so if you're new to this concept, Sporting Index offer plenty of helpful tutorials to help you get started.
The only area that we feel lets Sporting Index down is the fact that it's a little bit bare, and not nearly as exciting as some of the more traditional online bookmakers.
The Sporting Index website has been designed with usability and navigation in mind, and it fully delivers on these, but they could have spent some time giving it a bit of an edge design wise!
When it comes to the range of markets and sports events offered, Sporting Index offer impressive coverage of all of the major sports you would expect.
Smaller markets aren't covered as well, but you'll find great spread betting options on Football, Rugby, American Football, Boxing, Basketball and Cricket as well as some novelty markets.
It's difficult to compare the Sporting Index odds to traditional bookmakers odds with the odds that Sporting Index offer coming in the form of 'buy' prices or 'sell' prices.
Prices are usually very competitive, and the best thing about spread betting, is that you could walk away with much higher winnings than you can with normal bookmakers.
Betting at SportingIndex.com
Spread betting is a great option if you're looking for a more exciting alternative to the traditional fixed odds betting that normal online bookmakers offer. As previously mentioned, spread betting is based on buying and selling, and every market has a two-way price.
You can bet on any team or player performing amazingly or poorly, with the difference between your opening position and where markets finish, establishing how much you win or lose.
Once you've got the concept of spread betting, and their option of a free trial account is great for newcomers, the potential for bigger wins makes them a winner with us!
Reasons To Bet At Sporting Index
There are plenty of good reasons to start spread betting at Sporting Index. Not only does it add a whole new dimension to the betting experience, but it also offers the potential for much higher rewards but ultimately with greater risk.
Great range of markets on plenty of sports and events
Superb live in-play spread betting options
Option to cash out your spread bet, taking profit and minimising loss
Excellent customer support that's available 24/7
If you want to know more about all of the betting options that Sporting Index offer, they've got an excellent Training Centre that details everything you'll need know to place your first bet.
Contacting Sporting Index
You probably won't need to, but should you need to contact someone at spread betting experts Sporting Index, their suppport team is available via email, telephone, post or online.